Wout Theuws represents EFNMS during the GFMAM meeting and SAAMA conference 2019 at Stellenbos, Southern Africa
The Southern African Asset Management Association (SAAMA) hosts its sixth physical asset management conference from 14 to 16 May 2019 at Spier Wine Farm, Stellenbosch. SAAMA2019 will focus on the development of physical asset management in Southern Africa.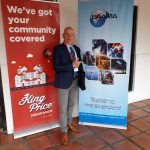 An impressive cast of academic researchers, experts, local and international speakers will participate in this unprecedented event which will feature plenary sessions, practical workshops and special roundtables devoted to the most pressing issues relating to enterprise asset management. This year the content will focus on doing things smarter and how this will impact on the workforce, our assets and operations. Smarter approaches that will be unpacked at this year's event include: digitalisation, IoT, mobile and technology, maturity principles and assessment, best practice in utilities and public sector, green/circular economy, competency and employee engagement and capital projects.
"The SAAMA conference remains the premier annual event where asset management professionals gather for meaningful discussions and unrivalled networking sessions with industry peers. The event is most relevant and offers delegates many reasons to attend. The first being the quality of the content. Papers are content driven, relevant to global matters and pitched at the highest standard. The second reason is that we ensure the conference delivers on the needs of our attendees. These include their desire to interact, share, learn and engage with the content and in addition, earning CPD points for attending the conference," says Johannes Coetzee, President of SAAMA.