Mission
To Strengthen and improve the competiveness and profitability of EFNMS/NMS member companies by a Supreme Maintenance Function.
Objectives
Support communication of maintenance performance
Promote benchmarking and best practice sharing in maintenance
Inspiration to Maintenance Managers for improvements
The Committee members or partners
| | |
| --- | --- |
| | Gerardo Alvarez Cuervo, AEM, Spain |
| | Lars Jansson, SvUH, Sweden |
| | Juraj Grencik, SSU, Slovakia |
| | Reinhard Korb, MFA, Austria |
| | Darko Žitnik, HDO, Croatia |
| | Tomas Trigo, APMI, Portugal |
| | Tom Svantesson, DDV, Denmark |
| | Páll István Zoltán, MIKSZ, Hungary |
| | Jaakko Tennila, promaint, Finland |
| | Chris Rijsdijk, NVDO , The Netherlands |
Join us for
Sharing Best Practices and experiences in the workshops
Inspiration to improvements and modifications
Develop methods in visualization of results
Learning how to communicate with management on maintenance performance
Key Performance Indicators (KPIs) – Best-Practices – Survey
The EFNMS Maintenance Assessment Committee (EMAC) initiated a European wide benchmark exercise. The aim is to identify best practices and standard values for typical Key Performance Indicators (KPIs) related to maintenance.
The survey is addressed to Maintenance Managers active in factories and other asset intensive organisations.
The results from the newest benchmark were presented and discussed in 2018 during a workshops by EMAC at the
EuroMaintenance 4.0 conference in Antwerp, Belgium.
Participants of the survey have received a report.
Products
GMARI – Global Maintenance and Reliability Indicators
29 Maintenance KPI's harmonised and explained to be used on a global basis. A common product of the SMRP (Society for Maintenance & Reliability Professionals U.S.A.) and the EFNMSvzw (European Federation of National Maintenance Societies).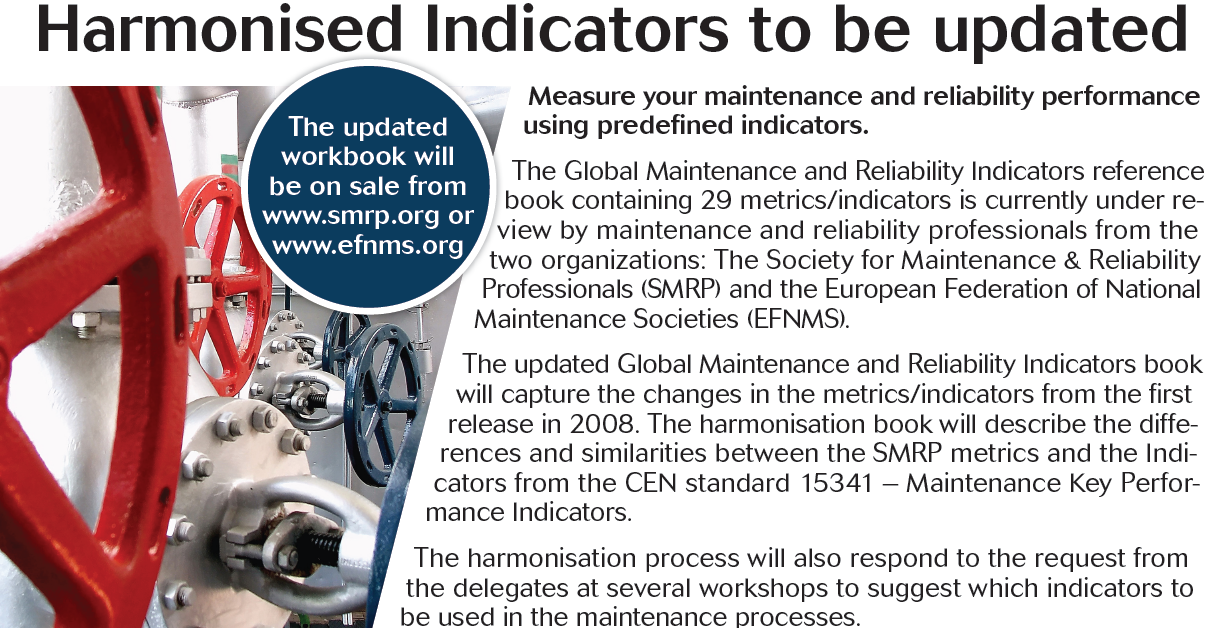 Learn how to evaluate position and find improvement areas

WS 1: The common language – The Maintenance Terminology– Standards used: EN13306; EN15341; EN 17007, Mimosa
WS 2: Understand and calculate Key Performance Indicators– Standards used: EN15341; ISO 14224; EN 17007
WS 3: Applying indicators on Maintenance processes– Standards used: EN 13460; EN 17007
More than 20 Workshops have been performed so far with great success.
For business terms for the arrangement of these workshops: EFNMS Workshop Bussterms (pdf).
There is a group of approved facilitators to lead/support the events in different languages: Facilitator List (pdf).
The user requirement specification for the calculation and presentation of Maintenance Key Performance Indicators according to EN 15341.
Help for the configuration or procurement of a computerized maintenance management system in order to be able to produce the standardized KPI's. Only for EFNMS/National Maintenance Societies members. Please contact your society representative.
Detailed information on the Committees Workshop